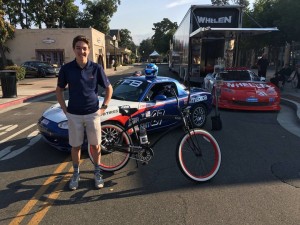 Formula Car Challenge Amid Indy Grand Prix of Sonoma Alongside Danville Concours d'Elegance Helps to Raise Awareness for Team Fox
At Sonoma Raceway this weekend, teenage racer Colin Mullan will again participate in the Formula Car Challenge with World Speed Motorsports which takes place amid the GoPro Indy Grand Prix of Sonoma, September 15-17. For the past three years, Colin has been fundraising to support Parkinson's Research through Team Fox. The move from karting to race full size cars including the FormulaSPEED and his Mazda Spec Miata has given him the opportunity to raise more awareness for this debilitating disease with Team Fox front and center on his cars. Having seen the effects of Parkinson's Disease touch his family first-hand, Colin understands the urgency to speed toward a cure.
In addition to the upcoming race in Sonoma, Colin will bring his Spec Mazda Miata out to the Danville Concours d'Elegance on Sunday, September 17. The event is one of the largest gatherings in the East Bay of classic, sports, performance and exotic automobiles that come together each September. The event is free to everyone and donations raised during the day all go to support Parkinson's Research.
While Colin's Mazda will be on display he'll also be there to promote a Cruiser ride and raffle at Norm's Place in Danville on September 26. Colin worked closely with The Cruiser Shop in downtown Campbell to have a semi-custom HBBC Skullxbones Downtown Edition bike, complete with Team Fox logo, built to raffle off. All proceeds for the raffle will go to Colin's 2017 fundraiser for Team Fox. Norm's Place is located on Hartz Avenue in downtown Danville and the ride kicks off at 7:00 pm followed by the raffle.
"There are a lot of causes a young person such as myself can get involved with, but Parkinson's is personal to me. I want to do what I can to help change the outcome for future generations," said Colin Mullan. " The progression of this disease is very painful for those that have it both mentally and physically. Activities we take for granted each day like walking through a grocery store, or bending down to lace a pair of shoes, can be exhausting and extremely challenging. Racing is what I love to do and it gives me a great platform to be an advocate for Team Fox for Parkinson's Research. I have a goal to reach $10,000, double what I raised last year."
About Colin Mullan
Colin, who is currently a sophomore at San Ramon Valley High School in Danville, CA, is an honors student with a passion for math and engineering. He started racing at age 5 and has progressed through many classes and types of racing in ten seasons thus far. 2017 is Colin's rookie season in full size cars.
In 2016, Colin received top honors for winning the Junior Rotax class for the 2016 season of the Sanzaru Games Karting Championship at Sonoma Raceway. He was also awarded the Junior Driver of the Year for his patience, strategy, and consistency of performance to finish up front that season. After completing his ninth season of racing, including four seasons in Karts with two championship wins, Colin moved to the Formula Car Challenge. The races in Sonoma this weekend will be the sixth event in the series.
An early test in F4 with Jay Howard's Motorsport Driver Development Team at Gingerman Raceway this past May also opened the door for Colin's first national race at Mid-Ohio just a few weeks later. He took home the Hard Charger Award for passing the most cars throughout the weekend of racing, as well as a top 5 finish.
On and off the track, Colin is learning the craft of racing both sports cars and formula cars. Colin has not locked in plans yet for 2018 but hopes to find sponsorship to move up to a national race series.
More info:
Team Fox is the grassroots community fundraising program at The Michael J. Fox Foundation for Parkinson's Research  – Learn more>>