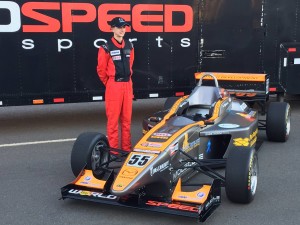 The WSM Rising Star Awards have been provided to up and coming championship caliber racers for over 20 years. This year there were four recipients chosen to test with World Speed Motorsports. Past award recipients have gone on to race in Formula One, win races in NASCAR, win the 24 Hours or Daytona and 12 Hours Sebring, and secure the Indy Lights Championship.
For the fifth consecutive season VMB Driver Development was co-sponsoring the test, and would select one driver to receive a $30,000 scholarship into the 2018 Formula Car Challenge presented by Goodyear in a GEN2 FormulaSPEED.
14-year-old Rayce Dykstra from Colorado was the driver selected to represent VMB in 2018. "All the drivers did incredibly well, as we expected they would," noted WSM Team Owner Telo Stewart. "It is great that we were able to provide the testing opportunity to these young racers, and help them learn more about working alongside industry professionals. We expect to see great things from this year's award winners, based on what we have seen from our past selections. We are also excited to add Rayce to the team for 2018, and look forward to working with him next season! We are expecting to have Courtney Crone back for 2018, and she will be a great driver for Rayce to be competing against, and to be learning from."
"I am so thankful to VMB, World Speed, Mazda Motorsports and Goodyear Racing for the opportunity to attend the shootout.  I am still in shock at winning the VMB shootout against the amazing drivers who I had a great time getting to know during the weekend.  I have work to do to prepare for this next step but can't wait to learn from the great team at VMB and World Speed for 2018!" ~ Race Dykstra
Rayce is a third generation racer who started racing karts at the age of 8. He has had a very successful career working his way up the national karting ladder in the Rotax national program and the SKUSA Pro-Kart Challenge. In his first season of karting he was on pole in 15 out of 16 races, won 14 of those races and clinched the championship. This past season, Rayce competed in SCCA Spec Miata , and secured the Colorado Region championship.
Rayce Dykstra Career Highlights
2015 Rotax Racing the Rockies Vice-Champion

2015 Rotax Racing the Rockies Vice-Champion

2016 Colorado Sprint Championship in Mini-max Karts

2017 Skip Barber Racing School Graduate

2017 SCCA Spec Miata Regional Champion

2017 Youngest driver to ever receive the Ron Hunter Rookie of the Year trophy
A Note From VMB President Steve Brisentine:
 What an exciting day at Thunderhill Raceway Park for these four young and up and coming drivers. With a $30k scholarship at stake for the 2018 race season, the young drivers went through multiple track sessions, interviews with VMB and World Speed Principals and critiques from Professional Drivers and Coaches.
After a full day at the track, the selection team evaluated all aspects of driving, coach-ability, constant improvement throughout the day, and eagerness to advance in the sport of racing. All of the drivers were strong in certain aspects. The overall scores lead to one driver at the end of the day. VMB Driver Development and World Speed Motorsports would like to congratulate Rayce Dykstra on securing the 2018 VMB Scholarship.
We wish the other Rising Star Award winners much success in racing this next season and we will be following them on their progress! Thank you all for making this decision a very tough choice as you all are great athletes as well as fine people.
We would also like to extend a special thank you to all the people who made the shootout such a success including, VMB Supporter Andy Brown, Dean Case, Mazda Motorsports, Goodyear Racing, Molecule Sports, and the entire World Speed Motorsports crew.
Thank You,
Steve Brisentine
VMB Driver Development, LLC
For more information visit: